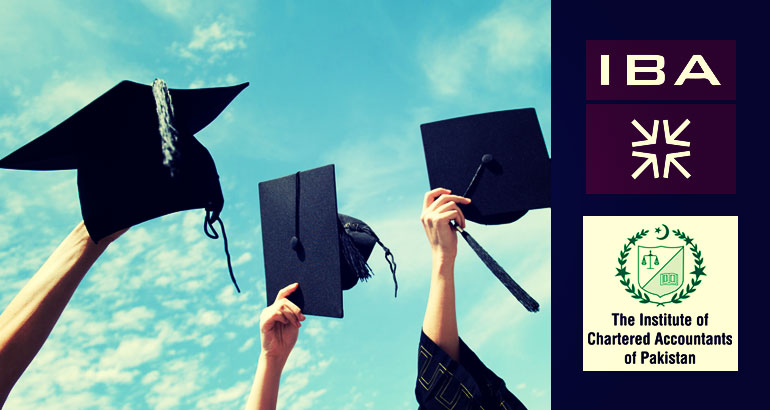 KARACHI (February 12, 2013) – Institute of Business Administration (IBA) in collaboration with the Institute of Chartered Accountants of Pakistan (ICAP) has designed an innovative four-year programme of combining the undergraduate academic degree in Accounting and Finance with a professional Chartered Accountancy qualification.
Among other things, the programme also provides an exemption of four modules (12 subjects) from the CA curriculum.
"It's a win-win situation for BS students as it guarantees jobs for them. As for our BBA students, it raises the bar for them as well," said Dean and Director of the Institute of Business Administration (IBA) Dr Ishrat Husain ahead of signing a partnership agreement with the Institute of Chartered Accountants of Pakistan (ICAP) at the main IBA campus here on Tuesday.
It was said that it's for the first time that ICAP gave an exemption to a university. By virtue of this arrangement, IBA will give a novel option to its students whereby their academic degree will lead to a strong professional qualification and ICAP will recruit quality graduates with university exposure and sound academic background.
"This innovation, a remarkable alliance between a top-ranking business school and a leading accountancy body, has far-reaching consequences for the quality of our chartered accountants and the employability of our graduates," said Dr Husain. "It will make a positive contribution to the economic and business sector of Pakistan," he added.
"There is a major disconnect between the demand of the economy and supply. The universities produce thousands of graduates who are all ill-equipped when it comes to the critical skills needed for them to succeed in the job market. ICAP CA graduates are high in demand all over the world. That's why I wanted to bring these two bodies [IBA and ICAP] together," Dr Husain said.
"The dream of a development economist is coming to fruition today for which I am grateful to ICAP president Ahmad Saeed. As we embark on this journey, I want to tell you that we are still experimenting and we will sharpen our model by getting rid of all the hassles if any come in our way," he added.
ICAP president Mr Saeed said that the collaboration was an endeavour to offer dynamic routes of achievement to the country's brilliant youth. "Work-integrated learning will provide a vibrant experience to all graduates, who will be well equipped to make a positive contribution towards the business, economic and financial sector of the country."