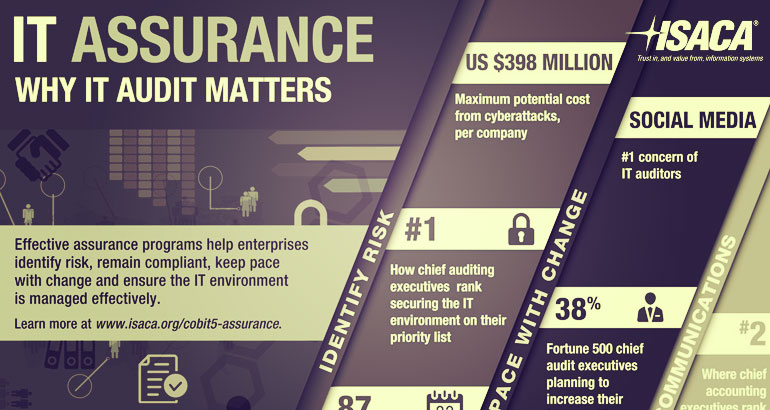 ROLLING MEADOWS, IL, USA (July 30, 2013) – ISACA (Information Systems Audit and Control Association) has issued revised Information Systems (IS) Audit and Assurance Standards. The standards have an effective date of 1 November 2013.
Introduced in 1988, the IS Audit and Assurance Standards define mandatory requirements for information systems (IS) auditing and reporting. They inform management of the expectations regarding the work of practitioners and ensure that practitioners understand the minimum level of acceptable performance required to meet professional responsibilities. Professionals who hold the Certified Information Systems Auditor (CISA) certification must comply with these standards.
The current update includes 17 standards that were restructured to include the definition of key terms, provide additional clarity and align with other global auditing bodies. They are divided into three categories:
General standards (1000 series)—These standards focus on the guiding principles under which the IS assurance profession operates. These principles apply to the conduct of all assignments and include topics such as ethics, independence, objectivity, due care, knowledge, competency and skill.
Performance standards (1200 series)—These standards deal with the conduct of the assignment, such as planning and supervision, scoping, risk and materiality, resource mobilization, supervision and assignment management, audit and assurance evidence, and the exercise of professional judgment and due care.
Reporting standards (1400 series)—These standards address the types of reports, means of communication and the information communicated.
The IS Audit and Assurance Standards are included in ITAF™: A Professional Practices Framework for IS Audit/Assurance, 2nd Edition, which provides a single source in which IS audit and assurance professionals can find the ISACA Code of Professional Ethics, standards and guidelines, as well as references to tools and techniques, such as audit and assurance programs, books and white papers to support their role. ITAF is available as a free download at www.isaca.org/itaf.
"The global economy drives ever-increasing interconnection of organizations and their information systems. The sensitivity and value of data collected and processed by these systems—and the constant threats they face—make the role of IS audit and assurance professionals more important than ever before," said Ron Franke, CISA, CRISC, CIA, CFE, CICA, principal, IT assurance services, at Myers and Stauffer LC and member of ISACA's Professional Standards and Career Management Committee. "ISACA's globally recognized standards provide the foundation to help ensure that information and systems can be trusted. The standards continue to stand the test of time and are critical in helping us meet the IS assurance needs of management and the public. The time was right to update the standards to ensure their continued value to enterprises and to make them even more accessible to the global assurance community."
ISACA's IS Audit and Assurance Guidelines are also being updated to align with the standards and COBIT 5. An exposure draft will be available later this year.