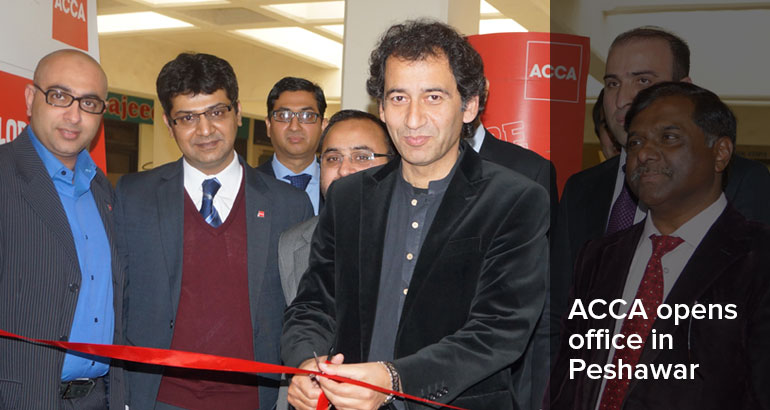 PESHAWAR (December 11, 2014) – ACCA Pakistan recently inaugurated its office in Peshawar for the promotion of accounting and finance profession in Khyber Pakhtunkhwa.
The inaugural ceremony was attended by Provincial Minister Secondary Education Mr. Muhammad Atif, Head of ACCA Pakistan Mr. Sajjeed Aslam and Head of North, ACCA Pakistan Mr. Junaid Ahmed. The opening of the Peshawar office strengthens ACCA's presence in Pakistan and aims at serving students and members of the Khyber Pakhtunkhwa province and adjoining regions, interested in pursuing a globally recognized accountancy qualification.
While speaking at the inaugural ceremony Provincial Minister Secondary Education, Mr. Muhammad Atif said "This will prepare the young generation to overcome the challenges in a given environment and produce solutions to problems. The opening of the ACCA office in Peshawar is a remarkable step for the academic uplift of the students of the KP region." He also mentioned that it is essential to develop resources in academic institutes through trainings and capacity building workshops.
In his welcome address at the ceremony, Head of ACCA Pakistan Mr. Sajjeed Aslam said: "We look forward to serving the growing needs of our valued members and students in the Khyber Pakhtunkhwa region. We have recently expanded our network of operations in Pakistan from operating in Islamabad, Lahore and Karachi to Multan, Faisalabad and now Peshawar." He further emphasized upon the benefits that ACCA students will reap though the establishment of Peshawar office.